The Competition is open to young musicians living in Australia in two instrumental categories: piano and strings, and three age categories:
A. 11 years and under; B. 12-14 years; C. 15-17 years (Entrants must be born after 4 October 2003).
Applications can be submitted at any time from 1 February 2021 until the application closing date 31 October 2021.
Guidelines:
Please read the terms and conditions of the competition - Rules.
Choose the age category (A, B or C) and check the repertoire requirements for your group (Rules, par.20).
Submit the Application Form - does not require confirmation of the repertoire. The number of accepted applications may be limited due to the time frame of the competition.
Please pay a competition fee according to your age category. Payment details – Rules, par.8.
Select the music in your instrumental category - Repertoire. Participants may propose other music works by Polish composers not included in the official competition list. Such works must be approved by the Competition Organising Committee. Please send a request to include selected pieces to the official list via email to:

This email address is being protected from spambots. You need JavaScript enabled to view it.
Create an audition video of your program, solo or with accompaniment. Upload your entry video to a YouTube account, such as an "unlisted". For detailed instructions please refer to pars. 23 and 24 of the Rules and click here.
Submit the Music Form. Provide the correct links of the recorded audio-video audition only. String instruments section – please register your accompanist in the application or request an official accompanist of the competition - refer to the Rules - Accompaniment section. If you need to contact our official accompanist, find information on the Contact page.
         The Music Form submitted by 31 October 2021 completes the application process.
Make sure you have completed all the necessary steps in the guide. Failure to send the Application Form, competition fee, Music Form or incorrect completion of the forms may result in ineligibility to participate in the Competition.
Timeline:
Application opening date: Monday 1 March 2021
Sunday 31 October 2021 - the deadline for submitting applications and fee
Sunday 7 November 2021 - the results of the first stage of the competition, posted on website – News/Results. Participants who qualify for the Final stage will be notified via email and SMS.
Sunday 14 November 2021 Melbourne – Final stage -  Deakin Edge, Federation Square.
The second, Final Stage of the Competition consists of a live performance by six semi-finalists from each age category. The participants perform a short program that must meet the time requirements specific to their age group (Rules, par.30). The results will be announced soon after the all performances have finished in the official part when the prizes will also be presented to the Winners !!!
All entrants will receive a diploma of participation and written feedback (Adjudicator's Report) on their music audition no later than 10 working days after the conclusion of the competition.
The Guide is for reference purposes only. Please refer to the RULES for official terms and conditions.
The best of luck!  Życzymy powodzenia !
PolMusicA Team  
Official PolMusicA 2021 posters
created by Polish graphic artist
Karol Kierzynka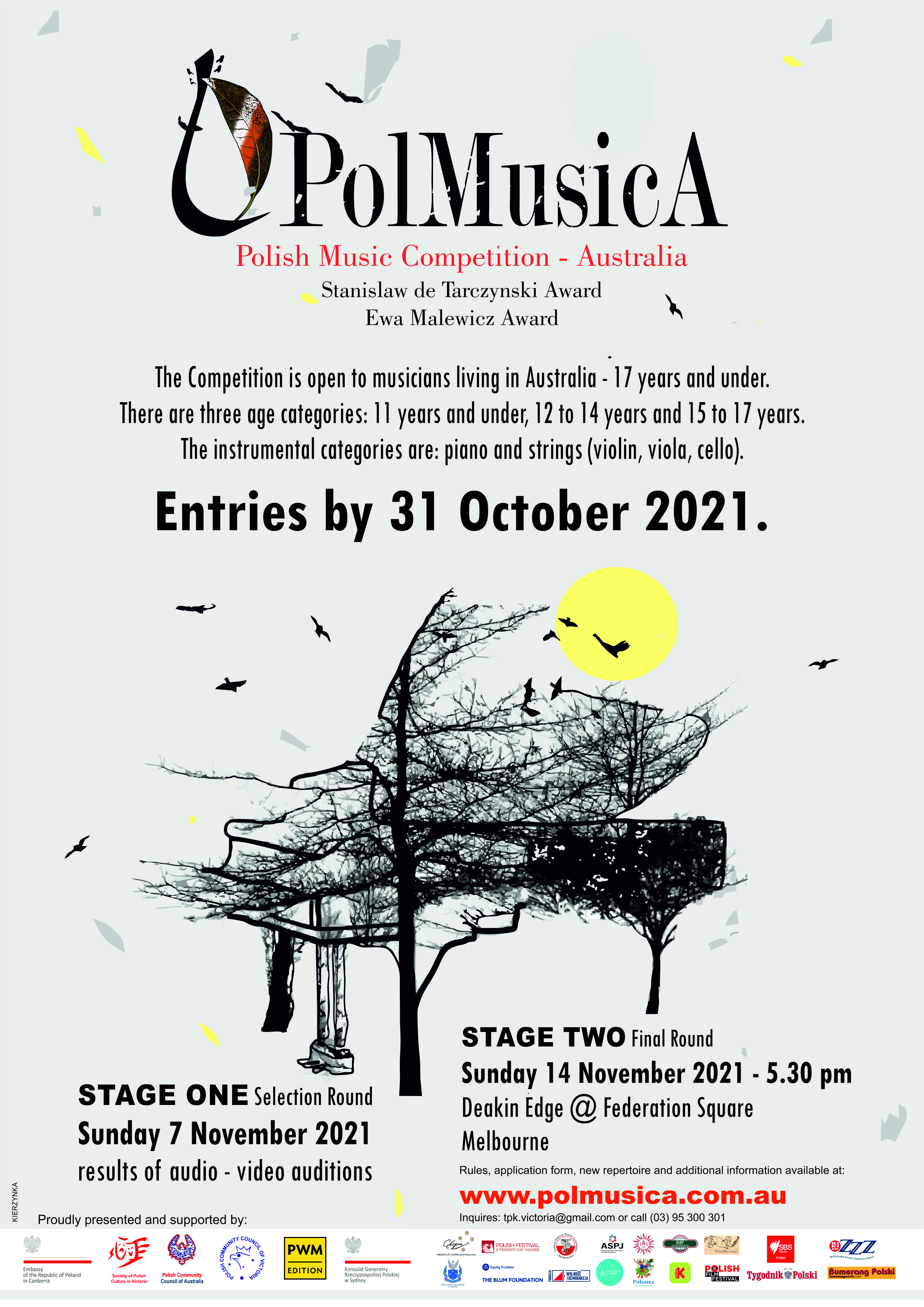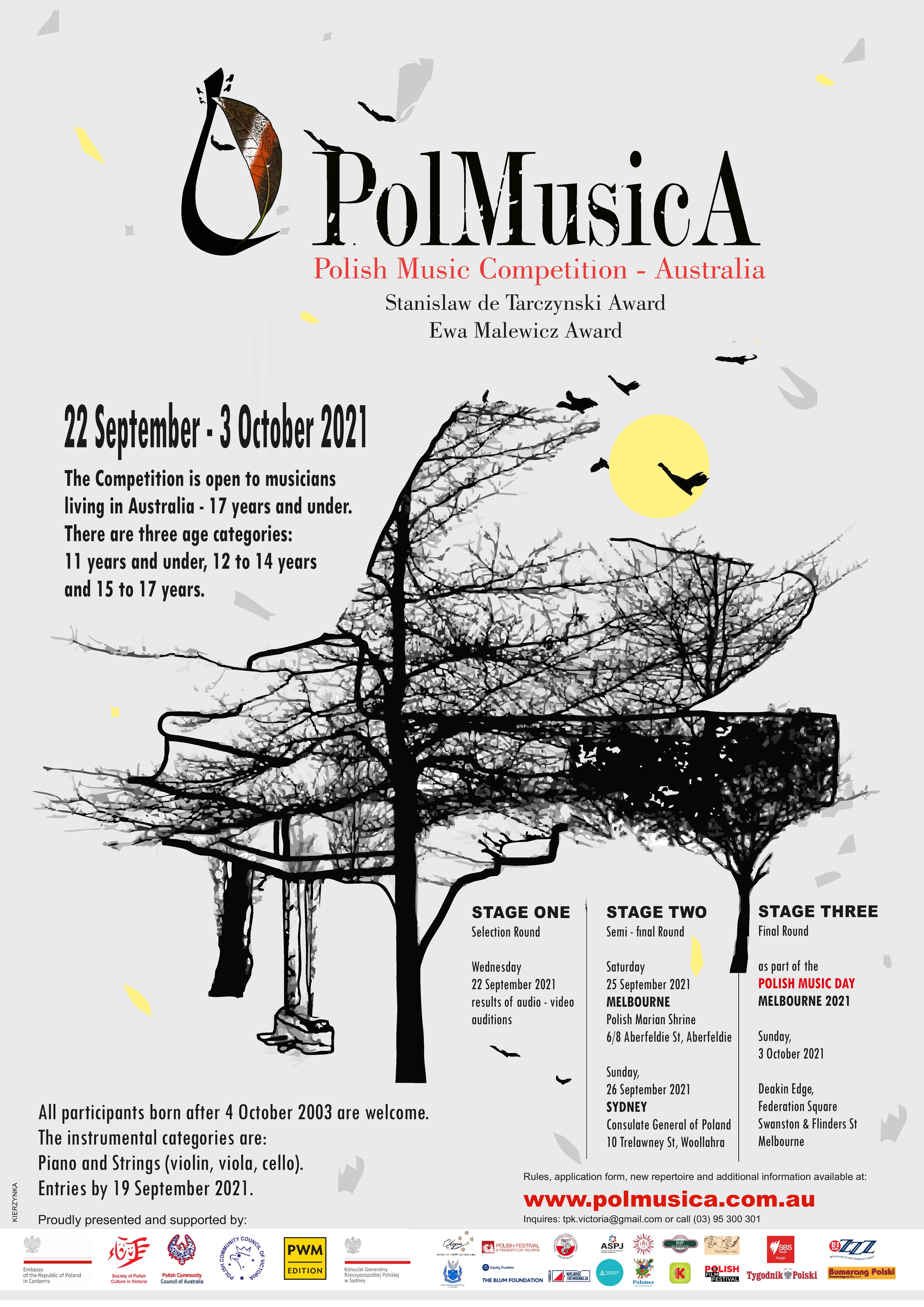 Official PolMusicA 2020 poster
created by Polish graphic artist
Karol Kierzynka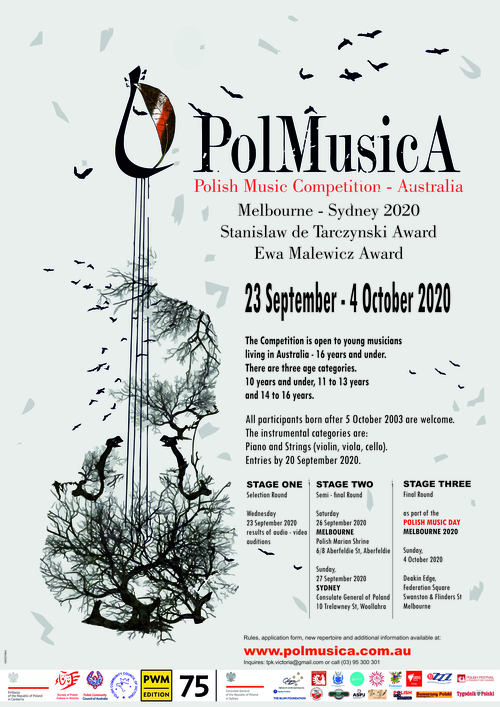 Official PolMusicA 2019 Poster
created by Artur Lyczba